All searching happens within the search form at the top of the page:

This is arranged as follows:
Preset – the chosen preset, and the ability to save the current search form as a preset. More information can be found on the Preset page.
Search – the phrase you are searching for. Can contain regular expressions
Search Flags – additional search conditions, such as case sensitivity and regular expression
Replace – the text you want the search phrase replaced with. This is optional, and can be added later. It is documented on the Replace page.
Source – the source of data you want to search. More information can be found on the Source page.
Source Options – additional options for the source
Results – pick how many results to return per page
Search Phrase
The search phrase is the text you are looking for. You can include any special characters or spaces needed to find your information.
For example, if you want to replace a domain then you can put https://yourdomain.com/. If you want to search for London then enter the phrase london.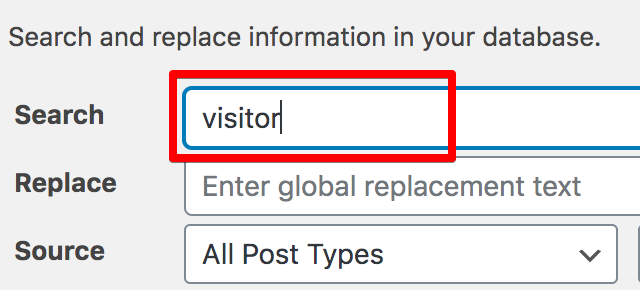 Search Flags
The flags enable additional search conditions.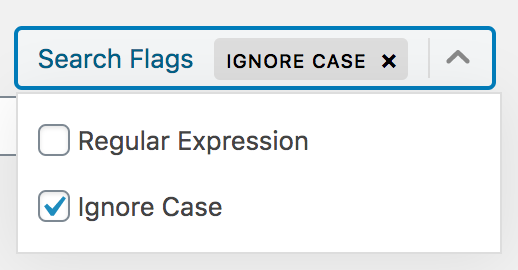 Ignore case – when enabled then London and london and lONdon are the same. When disabled they will return different results.
Regular expression – this enables regular expressions in the search phrase.
Searching
Once you've entered your search phrase you can pick your search source and the number of results to return.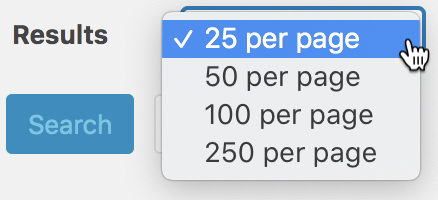 Searching can sometimes be resource intensive, and if you find your server runs out of memory you can reduce the number of results.
Search Results
When you have entered a search phrase and pressed the 'search' button you will be shown a set of results.

More information can be found on the page, Search Results.