Search Regex can search through data on your WordPress site. The kind of data is determined by the source. For example, the source could be your posts or comments.
Typically a source is a WordPress database table. You can search multiple sources at once.
Picking your source
You can pick your source from the search form: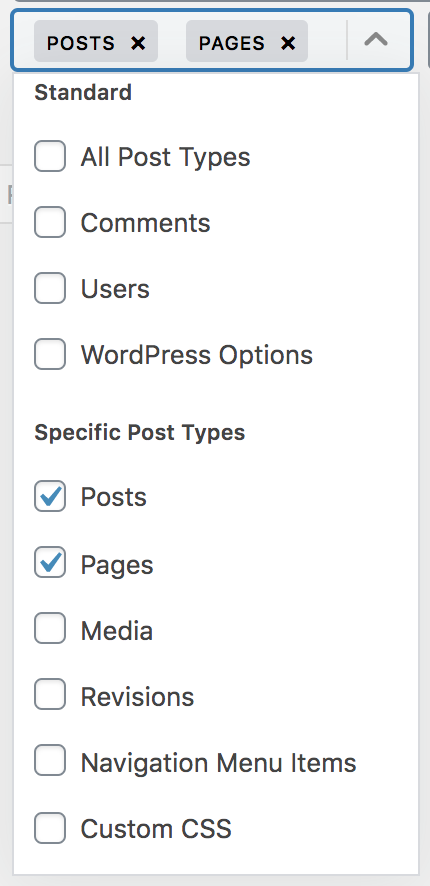 You can pick from any of the standard source types, from a specific post type, or from a supported plugin.
Note that if you pick 'All Post Types' then it will select all of the individual post types. Details about WordPress post types can be found on the WordPress support page.
Standard source type
A standard source type is any of the standard WordPress database table:
All posts, pages, and custom post types
Comments
Users
Options
User, comment, and post meta
Specific source type
As well as searching all posts, pages, and custom post types, you can pick a specific post type. The list of types is determined by the plugins you have installed on your site, and includes:
Plugin sources
Certain plugins can extend Search Regex. The following plugins are supported:
Source options
Some sources support additional options that are only available on that source.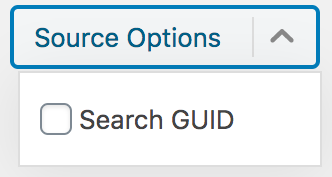 All post types, including custom post types, support:

Search GUID – Include searching the global unique ID. This is a unique ID assigned on creation, and is used in RSS feeds. Typically you don't want to change this.

Comments support:

Include comment spam – include spam comments in the search